The pie chart below shows where energy is used in a typical Australian household, and the table shows the amount of electricity used according to the number of occupants. Summarize the information by selecting and reporting the main features, and make comparisons where relevant.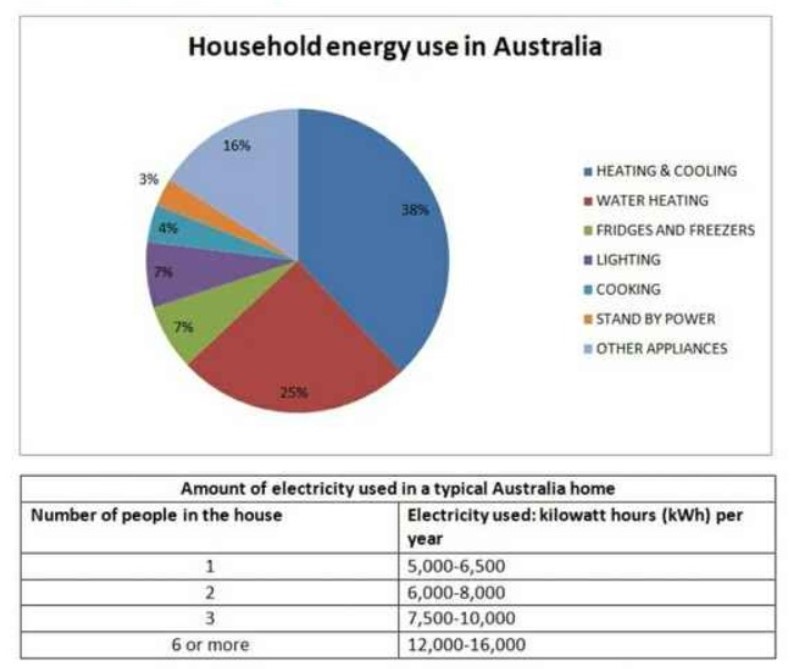 Sample Answer of Energy Is Used in a Typical Australian Household
The given pie chart depicts the electricity consumed by the Australian citizens for various house purposes. The tabular chart demonstrates the data of power consumption according to the number of people living in houses.
At first glance, it is clearly seen from the pie chart that the major percentile of energy was used for heating and cooling purposes. 25% power was used to heat the water. Cooking and Lighting holds the same percentage that was 7%, and standby power held the minimal proportion of household energy. Other appliances consumed 16% energy whereas only 4 per cent of power was used for cooking.
Moreover, a single occupant consumes less than 6,500-kilowatt-hours of electricity in a year. For a couple or two persons, the average consumption was 7000 kWh per year. For a family of 6 or more members, electricity usage touches the pinnacle.
Overall, the major electricity consumers were families, mostly energy used for heating and cooling purposes.
Follow Us on Facebook