The chart below gives information about "Istanbul Promo plus" sales in 2007. Summarise the information by selecting and reporting the main features, and make comparisons where relevant. Write at least 150 words.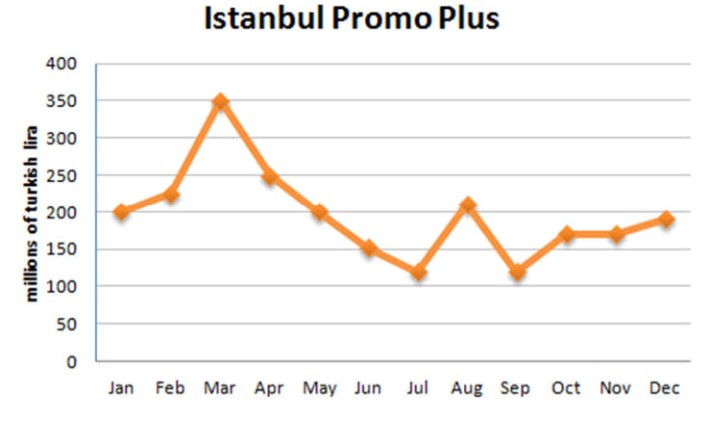 Sample Answer of Information About "Istanbul Promo Plus" Sales in 2007
The line chart illustrates about Istanbul Promo Plus scheme sales in the year 2007. Overall, from the chart, we can say that the highest sales reached in the month of March and similarly lowest sales of the scheme in July and September in 2007. The data is predicted in millions of Turkish lira.
To commence with, sales begin with 200 million of the Turkish lira in January and then a gradual increase in the next two months, which accounted for 350 million of the Turkish lira in March. In next four months, there is a sudden decline of the sales from 350 million of Turkish lira to just above 100 millions Turkish lira in July month and then again sudden rise with around 200 millions of Turkish lira sales in the August month and then reached back to similarly sales that of July in the month of September.
In the last four months, there is a gradual rise in sales, and at the end of the month, sales reached back to the sales earned at the beginning of the month.
Follow Us on Facebook