The bar graph below shows the numbers of male and female research students studying six computer science subjects at a US university in 2011. Summarise the information by selecting and report in the main features, and make comparisons where relevant.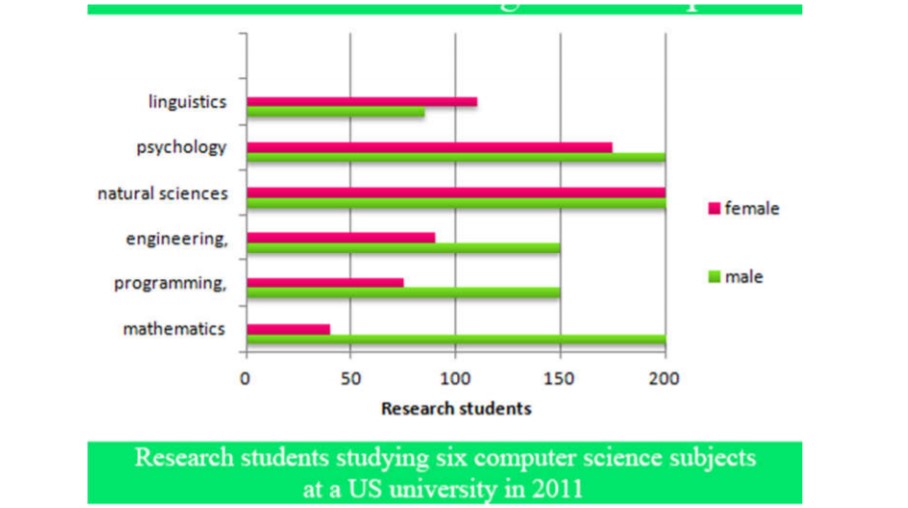 Sample Answer of Numbers of Male and Female Research Students Studying Six Computer Science Subjects
The bar graph presented to compare and contrast the difference in US University in 2011 in which the counts of gender research Scholars studying six computer science subjects. The units are calibrated in numbers.
In an overview, men had a keen interest in all subjects compared to women except in linguistics, whilst in natural Sciences both had the similar curiosity of study.
Initially, It is crystal clear from the chart that the number of title women who studied mathematics at US University in 2011 was nearly 50, which was thrice less than men. in programming, approximately 150 men had more attention towards a study which was double of women. Further, The figure of a woman was similar in engineering; however, there were minor differences in women's number.
Probing ahead, the number of males who had more attitude to learn psychology was 200, which was nearly 15 more than females. Interestingly, in linguistic, women had more interest was just over 100, which was less than 30 of men. The number of gender in natural science was similar was 200.
Follow Us on Facebook 
Also, Read Remember People's Names Speaking Part 1 Questions With Answers