The plans below show the site of an airport now and how it will look after redevelopment next year. Summarise the information by selecting and reporting the main features, and make comparisons where relevant.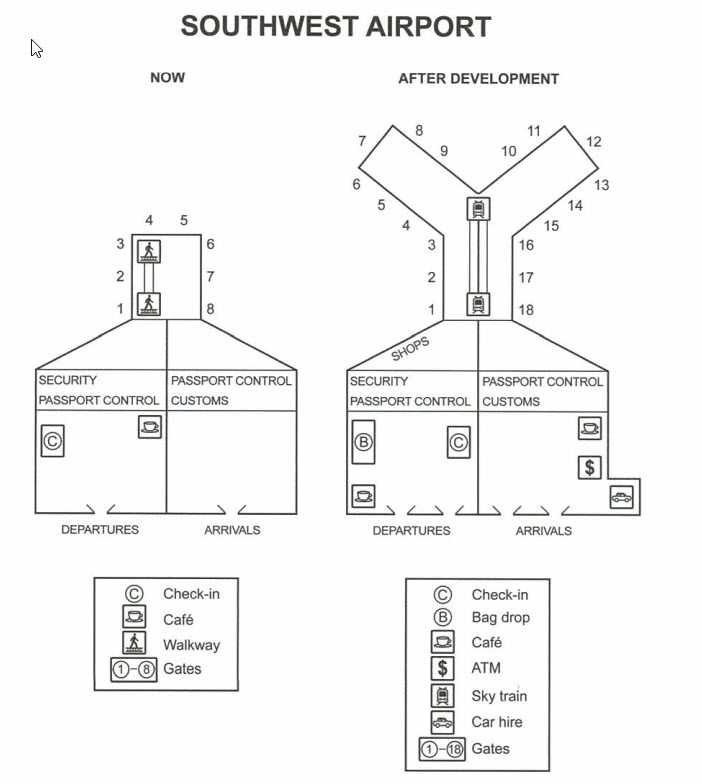 Sample Answer of Site of an Airport Now and How It Will Look After Redevelopment Next Year
The map details the site of an airport in a current time and alterations after reconstruction in the future. Looking from an overall perspective, it is readily apparent that there will be more gates and facilities for passengers in the future.
Looking more specifically, there are just 8 gates, which can be accessed by people using walkways. After redevelopment, the number of gates will increase to 18, while walkways will be replaced by sky trains. Before going to the gates, passengers will be able to shop at many stores, which are planned to be built in the future.
The area of security, passport control, and customs will remain unchanged, whereas check-in and café will relocate to their opposite sides in the future with the additional bag drop. Regarding arrivals, which are not equipped with anything currently, there is one extra
café and one ATM. Car hire will be added next to the entrance for arrivals.
Follow Us on Facebook