The graph compares the percentage of international and the percentage of UK students gaining second class degrees or better at a major UK University in 2009. Summarise the information by selecting and reporting the main features, and make comparisons where relevant.
---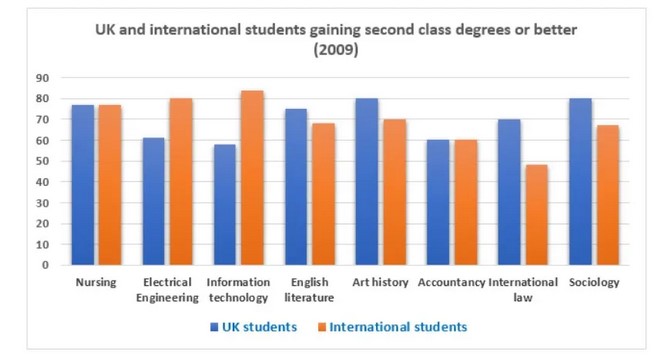 The bar chart illustrates the survey of the UK and international students gaining second-best or better in 8 degrees at UK University in 2009.
Overall, it can be said that the information technology of international students has a better degree than the UK. In contrast, international law of UK students gained more second class degrees than international students.
In 2009, nursing and accountancy subjects for both UK and international students had the same percentage, 78 and 60 respectively. In addition, information technology and electrical engineering of international students have a high percentage of second-class degrees with 80 and 83 than the UK with 61 and 58 respectively.
However, UK students in English literature and art history has a little high percentage than international students with (72 and 68) and (80 and 70) respectively. Moreover, sociology has also little difference in the percentage of UK students to international students with 80 and 68 respectively. In addition, international law degree holders are higher in UK students than international students with a percentage of 70 and 49.
Follow Us on IELTSFever Facebook