The pie charts below show the most common advantages and disadvantages of Bowen Island, according to a survey of visitors. Summarise the information by selecting and reporting the main features, and make comparisons where relevant.
---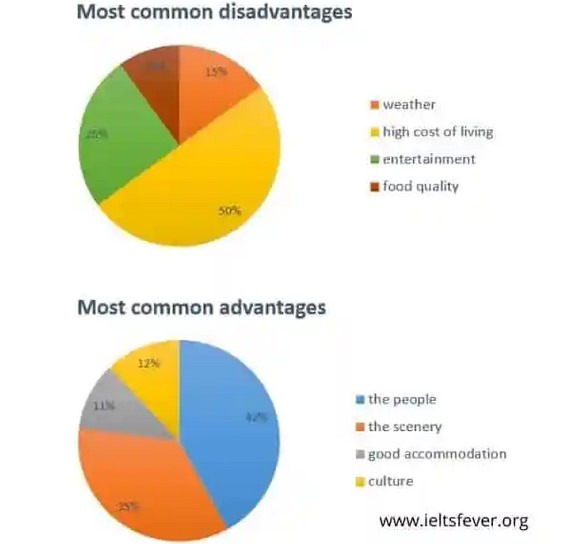 The charts demonstrate the commonly known merits and demerits of Bowen Island according to the survey of visitors.
According to the charts, generally, the commonest drawback is the high cost of living and quality being the minority. Additionally, the familiar benefit is people and good accommodation the less common.
In regards to the familiar cons, the proportion of the high cost of living (50%) covers half of the most common demerits in the study, namely, entertainment, food quality, and weather with 25%, 10% and 15% respectively. Furthermore, the entertainment proportion (25%) covers a quarter of the study. Both food quality (10%) and weather (15%) were the less common with a difference of only 5%.
As portrayed on the chart presenting the usual pros, there is a negligible difference between culture (12%) and good communication, which is 1%. Additional that, the proportion of the people (42%) is slightly lower than the most familiar demerit, which is the high cost of living (50%).
Follow Us on IELTSFever Facebook