The Process shows diamonds moving from the mine to the retailer. Summarise the information by selecting and reporting the main features, and make comparisons where relevant.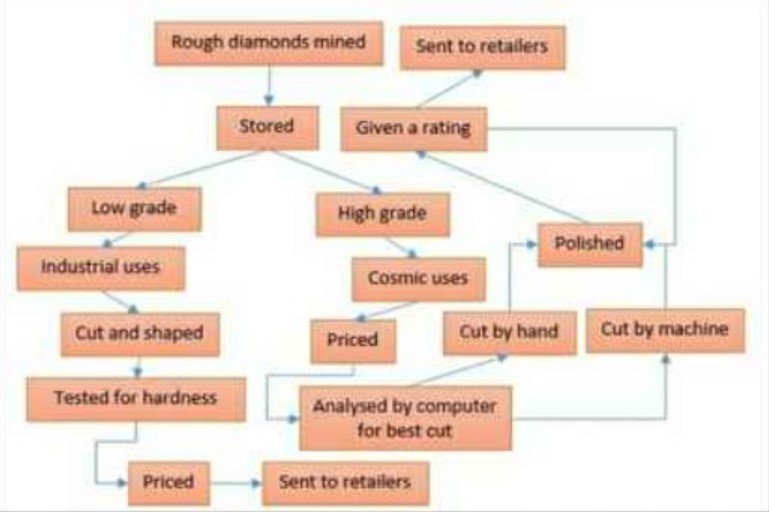 Sample Answer of The Process Shows Diamonds Moving From the Mine to the Retailer
The process provides information about how diamonds move from mine to retailer.
Overall, the process starts from rough diamond mining to the last stage, where it is sent to the retailer. And in the whole process, seventeen processes are involved.
To initiate the process, diamonds are roughly mined to store, from where they go to two various categories low grade and high grade. With regard to low
grades, there are five stages, step by step, to send to the retailers. From low grade, diamonds go to industrial uses after their cut and shape, and after testing the hardness of diamonds, the second final stage is pricing and finally sent to retailers.
When it comes to high grades, after cosmic uses and then pricing, computer analysis the diamonds for their best cuts; moreover, there are two cutting processes, whether they cut by hand or machine. Third last stage for high-grade diamonds is polishing and after send to ratings. In the final stage, after giving the ratings, it was sent to retailers.
Follow Us on Facebook 
Also, Read Percentage of Housing Owned and Rented in the Uk in 1991 and 2007