The table below gives data on the hour of leisure time per year for people in some land. Write a report for a university lecturer describing the information in the table below.
---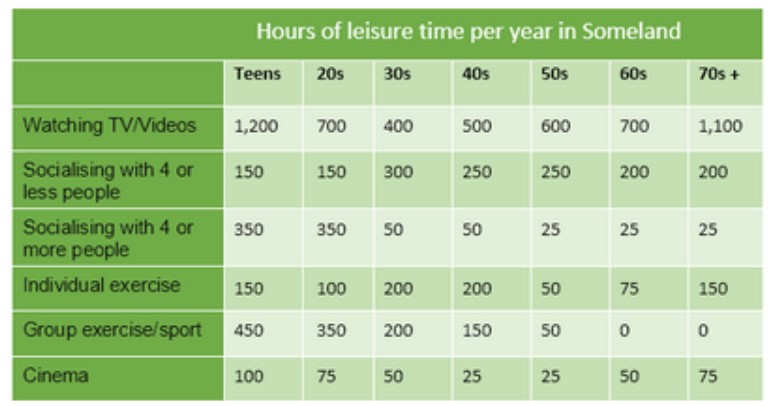 The table illustrates the hours of leisure time per year for people in some land in a division of various activities.
Overall, mostly all age people spent highly on watching TV or videos in their recreation time. Above 50 years age people have nobody willing to do exercises either individually or group.
The age group above the 30s spent the least time on both cinemas and socialising with people reported as below 100 hours per year. Moderated hours are observed for all ages in socialising with less than 4 people. Sports and group exercises are highly preferred by below 30s as well as zero hours by above 50.
Watching TV is a common recreation among all age groups people in the range from 1200 to 400. Teenagers have a high amount of hours in all activities as well as above 50s are less amount of hours. It is worth noticing that there is a significant trend towards solitary and smaller group activities as people grow older.
Follow Us on IELTSFever Facebook