The pie chart gives information about the country of birth of people living in Australia, and the table shows where people born in these countries live. Summarize the information by selecting and reporting the main features, and make comparisons where relevant.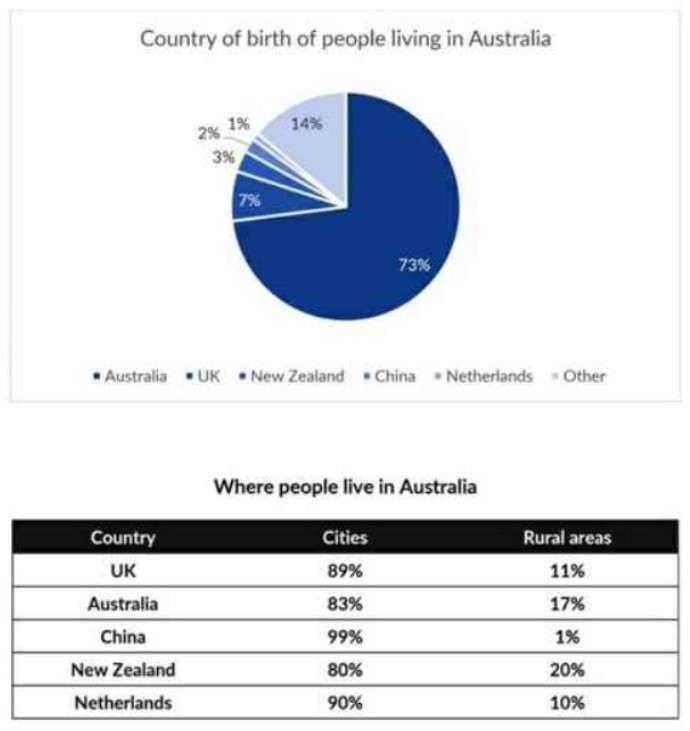 Sample Answer of Information About the Country of Birth of People Living in Australia
The pie and table chart depicts the birthplace of individuals and the area where they lived in Australia.
There is 73 per cent of natives who take birth in Australia. At the same time, only 7 per cent of dwellers take birthing in the United Kingdom. According to the table chart, 83 per cent of people live in cities rest of them lives in the farming area. On the other hand, Britishers who live in town are 6 per cent more than Australians.
Furthermore, there is a negligible difference in natives who take delivery in New Zealand, China and the Netherland. At the same time, there is 14 per cent of humans who take nativity in other nations. Only 1 per cent of Chinese prefer to live in the countryside area. On the other side, 10 and 20 per cent people who live in Netherland and New Zealand respectively.
Overall, most denizens like to live in conurbations except chines as maximum Chinese like to live in cities.
Follow Us on Facebook