The pie charts below give information on the ages of the populations of Oman and Spain in 2005 and projections for 2055. Summarise the information by selecting and reporting the main features and make comparisons where relevant.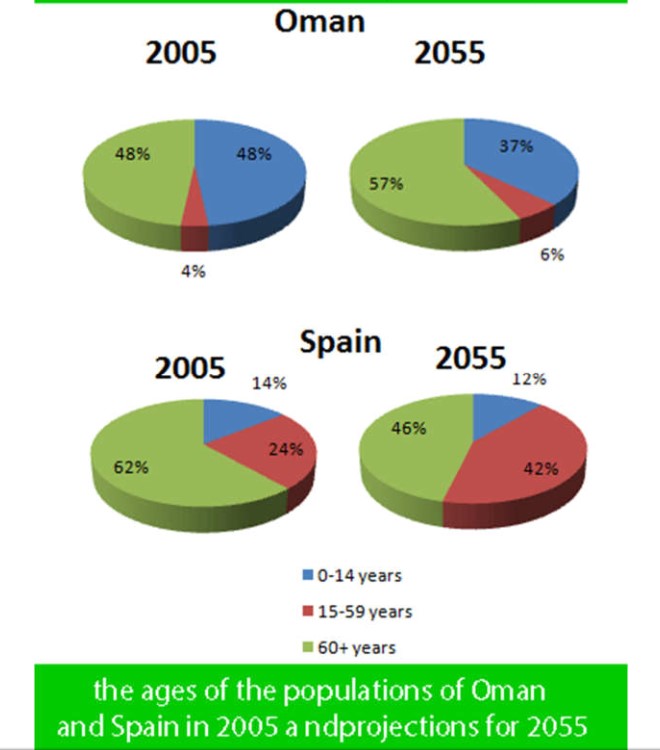 Sample Answer of Information on the Ages of the Populations of Oman and Spain
The two pie charts compare percentages of three different age groups people who are living in Spain and Oman in the years 2005 and 2050.
Overall, it can be seen that in Oman, more elderly had expected to increase in the future. However, Spain shows a reverse trend middle-aged people are had projected to rise in 2050.
It is interesting to note that in 2005, in Oman, the majority percent of the people who have lived in the 0-14 years age group and 60+ years age group, both accounted for just below half of the people (48%). The 15-59 age group is reported only 4%. On the contrary, in 2050, senior people had risen moderately to 57%. Children below 14 years of age have dipped considerably to 37%. Adults have climbed minimally to 6%.
In 2005, in Spain, more than half the proportion of individuals (62%) who are aged above 60+ years, which abated significantly to 46% in the future. Similarly, under 14 years of age children are 14% in the first, which fell slightly to 12% in the second year. By contrast, people aged between 15-59 are just under a quarter (24%). The figure expected a nearly two-fold increase to 42% in 2050.
Follow Us on Facebook 
Also, Read Percentage of Housing Owned and Rented in the Uk in 1991 and 2007