The bar charts below provide information about percentages of students who are proficient in a foreign language in different countries. Summarise the information by selecting and reporting the main features, and make comparisons where relevant.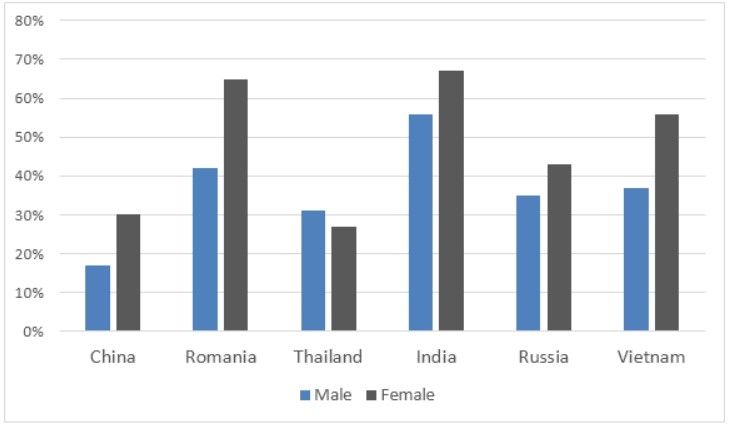 The bar chart compares statistical data for male and female students who have a good command of foreign languages in six countries.
Overall, Romania and India have higher percentages of students versed in other languages among the four nations. While the female student's ratio is highest for five countries, Thailand male percentage surpasses women.
As clearly seen on the diagram, India and Romania have the highest proportion of females who can speak a foreign language above 60%, whilst Vietnam follows slightly at around 55%. To add on, women who speak a second language in Russia are around 43% which is higher than China and Thailand, which are below 30%. However, Thailand's rate of males exceeds that of females by almost 5%.
On the other hand, the male ratio is highest in India at nearly 58%, while Romania is slightly above 42%. However, Vietnamese and Russian males are slightly above Thailand though all of them fall in the region just above 30%. Finally, China has the lowest ratio of males skilled in other languages at around 18%.
Follow Us on IELTSFever Facebook 
Also Read Some People Claim That the Government Should Provide Free Health Care