The chart below shows the internet users (in millions) in different countries in the Middle East as of June 2019. Summarise the information by selecting and reporting the main features, and make comparisons where relevant.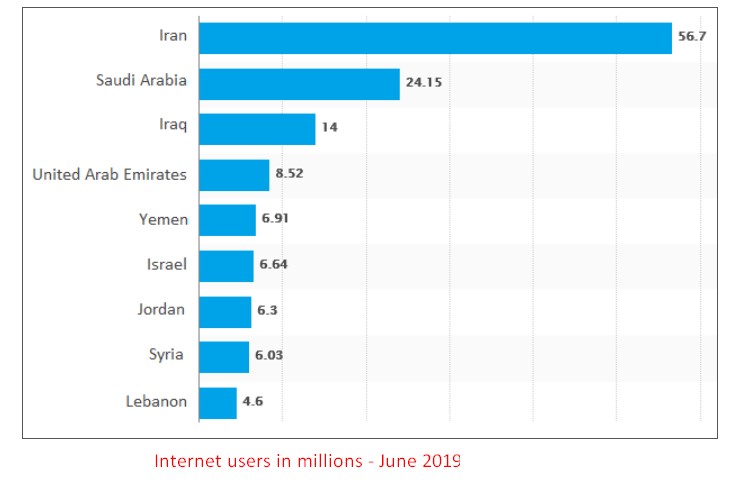 Sample Answer of The Chart Below Shows the Internet Users (in Millions) in Different Countries
The bar graph gives the number of people in million's accessed internet and shows a comparison between 9 different countries in the Middle of East, namely, Iran, Saudi Arabia, Iraq, United Arab Emirates, Yemen, Israel, Jordan, Syria and Lebanon in the month of June 2019.
Overall, the graph shows a decreasing trend in given all countries. Moreover, Iran had the highest users, whereas Lebanon had the least.
Among all the given countries, 56.7 million citizens accessed the internet in Iran. However, the number drastically decreased over a half and reached 24.15 million. Additionally, in Iraq, there was a four-fold decrease in the number( 14 million ) users. The number lowered moderately in UAE and stood at 8.52 million.
At the same time, the graph shows the declination of 3 lakh users consequently in countries such as Yemen, Israel, Jordan and Syria. In Lebanon, the number got further decreased by approximately 1.43 million as compared to Syria.
To sum up, we can say that Middle Eastern countries experienced the drop in the user consuming the internet facility in the following year and will be going on decreasing.
Follow Us on IELTSFever Facebook 
Also, Read Changes in the Spending Habits of People in the Uk Between 1971 and 2001