The chart below shows the unemployment rate and the number of people leaving Ireland from 1988 to 2008. Summarise the information by selecting and reporting the main features, and make comparisons that were relevant?
---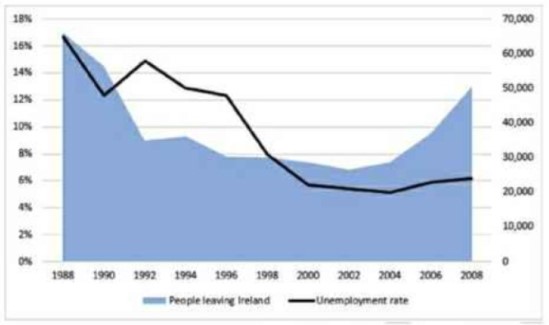 The given line charts demonstrate the percentage of unemployed people and data about living people from Ireland between 1988 to 2008.
Overall, after year by year rates of unemployment was fallen along with the number of people who lived Ireland however, last half of decades people was increased.
For unemployment, in 1988 17% of citizens had no job, after sharp fluctuation, it was just above 14% in 1992. After four years it had the same proportion as in 1990. The unemployment rate wad declined dramatically and touched its dip in 2000 on account of 5%. It remains roughly the same till 2008.
For people living in Ireland, with zenith point around 60000 people lived in 1988, which go down rapidly and after a half decades it had half of this population, the number of Ireland citizen was decreased only 4000 between 1992 to 2002. It sour and remained 50000 people population in 2008.
Follow Us on IELTSFever Facebook 
Also read: The Chart Below Shows the Percentage of Volunteers by Organizations in 2008 and 2014