The chart shows days taken off work due to stress-related illnesses by job for men and women. Summarize the information by selecting and reporting the main features, and make comparisons where relevant.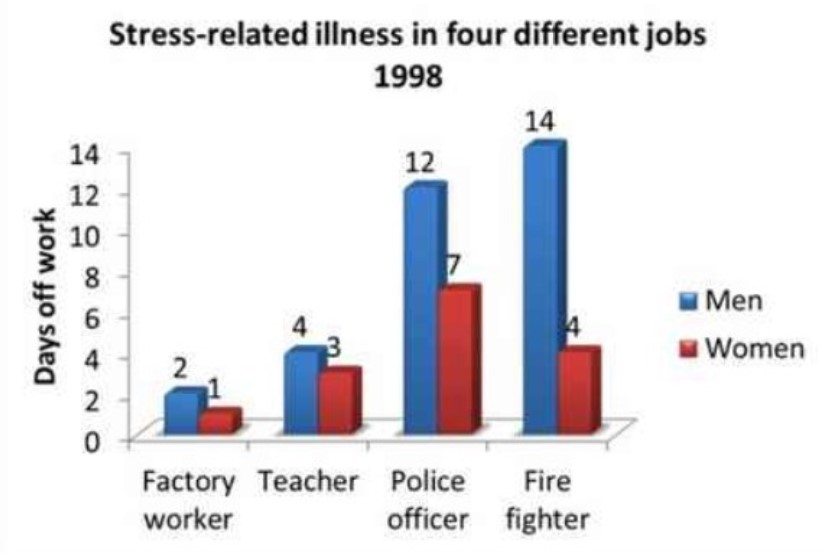 Sample Answer of The Chart Shows Days Taken Off Work Due to Stress-related Illnesses
The graph illustrates days taken off from work due to anxiety-related problems in four types of jobs for males and females in the year 1998. Overall, men have taken more leave due to illness compared to women in all four different jobs.
To begin with, the Firefighter job is a first leading occupation in which men have taken the highest day off from work due to stress which is accounted for 14 days off, while on the flip side; women have taken only 4 days to leave from a job which shows that female is less stress than the male in the firefighter job. Whereas, a similar trend is followed in the Police officer job, in which men have taken 12 days off while women have only 7 days off from work.
Furthermore, Factory worker and Teacher jobs are relatively less stressful jobs compared to the other two occupations. In the Teacher job, both males and females have taken almost equal days off taken with just a difference of 1 day, which accounted for 4 days off by men and 3 days off by women. While on the other hand, Factory worker occupations show the least days off taken from the job compared to the three jobs with just 2 days off by male and 1 day off by the female.
Follow Us on Facebook 
Also, Read Graphs Show the Nutritional Consistency of the Two Dinners