The graph below shows how elderly people in the United States spent their free time between 1980 and 2010. Summarise the information by selecting and reporting the main features, and make comparisons where relevant.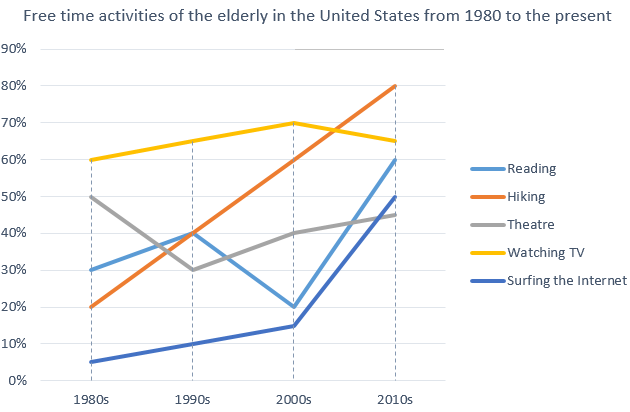 The chart illustrates how older citizens in America spend their leisure in various activities (reading, hiking, theatre, watching TV and surfing the internet)in a three-decade period (1980 to 2010).
First and foremost, it is noteworthy that all the various activities manifested fluctuations in one period or the other with the exception of hiking and surfing the internet, which keeps uptrend.
Theatre and reading showed the most instability as there was decline and rise respectively between 1980 and 1990. Again l, they both interchanged progress this time, reading tailing at 20% while theatre gradually overtook to 40% in 2000.
In contrast, hiking and surfing the internet showed a steady rise 20% to 80% and around 5% to 50% respectively between the 30 years period. Watching TV showed minimal changes or fluctuations averaging at 65%, which differ from the two extremes.
To sum up, the elderly showed variable interest in theatre and reading between the stipulated decades while increased number developed pleasure in hiking and surfing the internet. Watching TV, however, maintained the same patronage.
Follow Us on IELTSFever Facebook 
Also Read Some People Say that We Are Spending Too Much Money on Personal Events