The graph below shows the quantities of goods transported in the UK between 1974 and 2002 by four different modes of transport. Summarise the information by selecting and reporting the main features, making comparisons where relevant.
---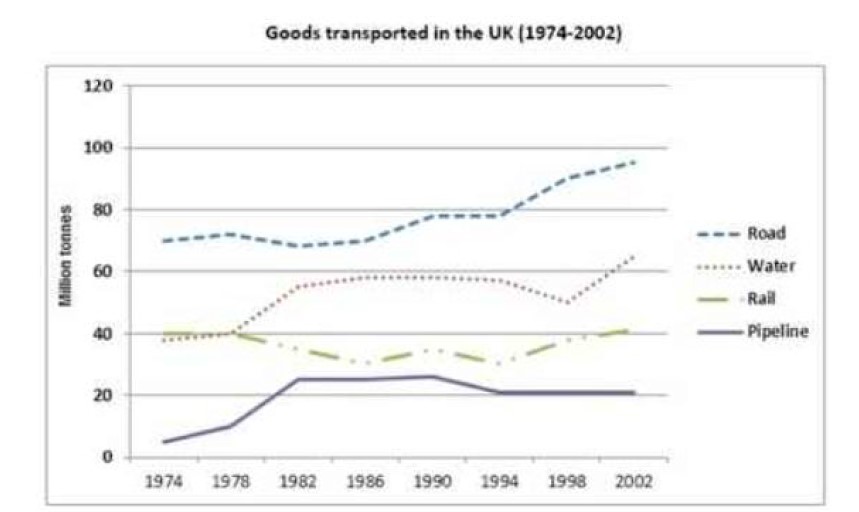 The line graph depicts the number of products moved in Britain from 1974 to 2002 bt several kinds of vehicle.
In 1974 approximately 5 million tonnes goods shipped by the use of pipeline way, after 1978 slight increase has been seen till 1982 which was around 25 million tonnes and remain same till 1990. Whereas, a fall has been noticed in the use of the railway for transportation after 1978 and fluctuation observed till 2002. On the other hand, use of pipeline system seen remain same between 1994 and 2002.
In the year of 1978 usage of water, transport overlapped the use of railway transportation and a sudden increase seen and took almost 57 million tonnes of goods which remain same till 1994 after a slight decline it crossed more than 60 million tonnes in 2002. Whereas, use to road transport always noticed at peek which transported nearly 70 million tonnes in 1974 after a negligible decline sudden increase has been noticed after 1990 and at the end of 2002 it transported almost more than 95 million tonnes.
Overall, usage of water transport passes the use of the railway. Whereas the maximum number of stock transported by roadway and always remain at peek as compare to other transportation ways.
Follow Us on IELTSFever Facebook 
Also read: The graph below shows the amount of UK investments in clean energy from 2008 to 2015