The graph shows four areas of accommodation status in a major European City from 1970 to 2000. Summarise the information by selecting and reporting the main features, making comparisons where relevant.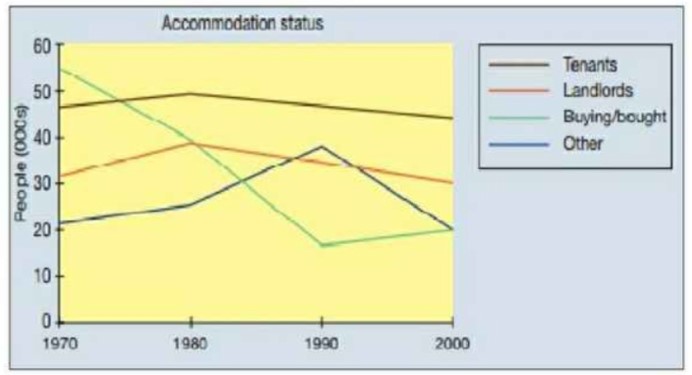 The provided line charts reveal people accommodation status in four different areas, tenants, landlords, buying and others between 1970 to 2000 in a major European city, the number of people measured in 1000.
Overall, in the started years buying bought was on its peak which became less priority for people in last year along with other. However, tenants and landlords had likely the same data in stating and ending years.
For tenants, 47000 people had tenants in 1970 which rose to 3000 in 1970, after that time it dropped slowly and remained same as 1970 in 2000. For buying bought, with its peak 55000, European did it which plunge continually after that period, in 1980 same people had status as landlords. Twenty thousand people did it in 2000 before that year it touched dip in 1990 on account of 18000 people.
For landlords, in 1970 31000 people accommodation status was it which jumped rapidly and after a decade 39000 people had this status, 1980 later, it declines the same rate as Tennant and in 2000 30000 people had. For others, in 1970 and in 2000 the same number of people status had, between that period in 1990 with 39000 people had the highest status.
Follow Us on IELTSFever Facebook 
Also read: The Chart Below Shows the Internet Users (in Millions) in Different Countries