The two maps below show road access to a city hospital in 2007 and 2010. Summarise the information by selecting and reporting the main features, and making comparisons were relevant?
---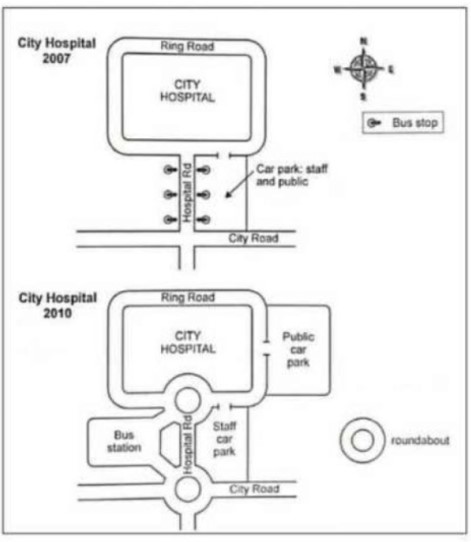 The provided two maps demonstrate the around city hospital route network in 2007 and in 2010.
Overall, We can clearly see that the road access to the city hospital had been upgraded in 2010 with the addition of a bus station, two roundabouts and a separate public car park.
In 2007, for reaching city hospital via bus then bus stop was on hospital rd which was on the center of the hospital and joined with city road. Around the hospital was rung road furthermore, parking facilities was on the corner of hospital rd and city road which is car parking for staff members and public.'
After three years, noticeable change, avoiding traffic congestion two roundabouts created, both side of hospital road, left side of hospital rd mad bus station, it joint hospital and city road by roundabouts while on the other opposite side car parking was only for staff. A new car park was developed for the public on the north-east side.
Follow Us on IELTSFever Facebook 
Also read: A Beachfront Area in Australia Between 1950 and Today