The maps below show Pancha Village in 2005 and 2015. Summarise the information by selecting and reporting the main features, and make comparisons where relevant.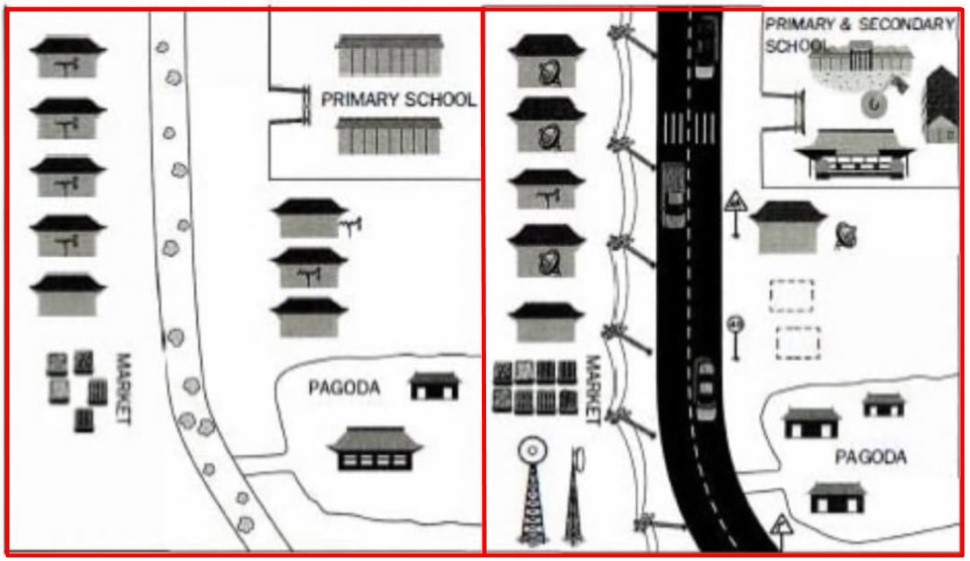 The two maps illustrate the changes that happened in the Pancha village from 2005 to 2015.
Overall, it can be seen that there were significant changes and areas for housing, schools, and radio plays are developed and modernized with the high tech devices that the new road over the period of 10 years.
The dirt road was replaced with a new highway line to the road along with the traffic signs in 2015. Houses that were located left to the road increased in size and modernized with satellite networks in many houses in 2016. On the left side of the road, the marketplace has grown and became more organized; telephone poles and telecommunication towers are situated at the bottom left corner of the map in 2015.
To the right side of the road, the new building of pagoda was added to homes has been cleared in the upper right corner of the primary school was lies in the northeast corner of the map, which was developed with new infrastructure into the secondary school in the year 2015.
Follow Us on IELTSFever Facebook 
Also, Read Talk About an Interesting Conversation That You Had With Someone