The table below shows the top ten countries with the largest population in 2019, and how it is projected to change by 2100. Summarise the information by selecting and reporting the main features, and make comparisons where relevant.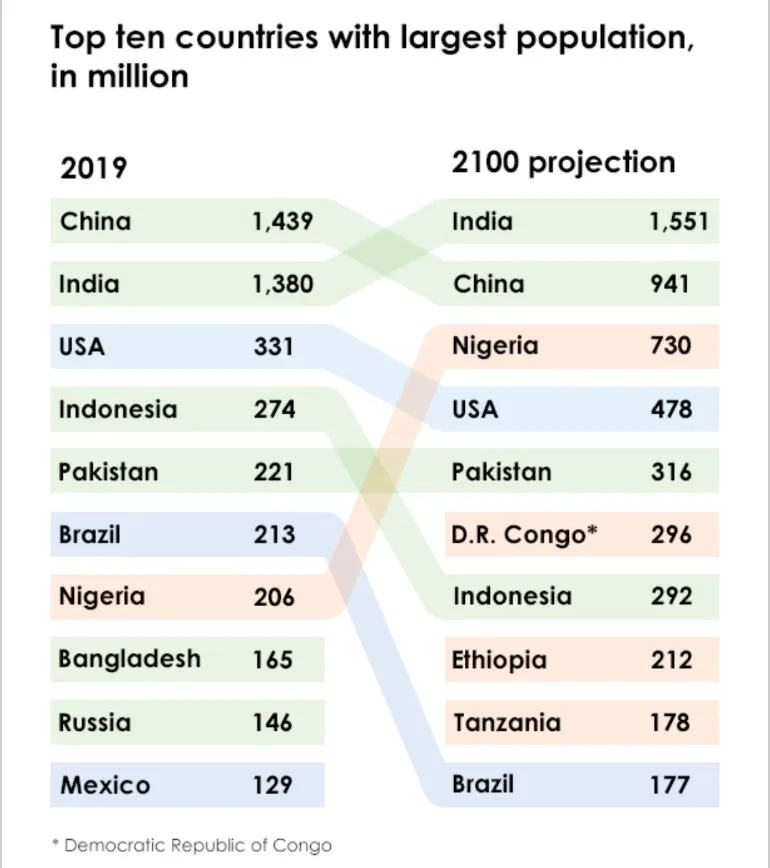 The table compares the population of the top ten countries in 2019 with projected numbers in 2100.
Overall, it can be seen that three countries that were in the top ten in the year 2019 will no longer be seen in the same scenario by 2100.
To start with, China occupied the top position in 2019 with a population of 1439 million, and India was in second place with a 1380 million population. But in 2100 projection top place is taken by India with total 1551 million population and China is shifted to number 2 with a decrease in the population. The next position was of USA in the year 2019 with 331 million population, but it is shifted to the 4th position in 2100, although is increased. Nigeria, which was in 7th place in 2019 with 206 million population, has occupied the third position having 730 million population with a total increase of 524 million. The population and number of Brazil both have declined from 243 million to 177 million population and from 6th to 10th place.
Three countries Bangladesh, Russia and Mexico, which were in the top ten in the year 2019, are no longer included as the most populated countries in 2100 as the positions are occupied by other countries like D.R Congo, Ethiopia and Tanzania with a population of 296,212 and 178 million respectively.
Follow Us on IELTSFever Facebook 
Also Read Someone Returned to You a Bag that You Lost with All Its Belongings Still Inside It