The graph gives information about the drinking habits of the US population by age. Summarise the information by selecting and reporting the main features, and make comparisons where relevant.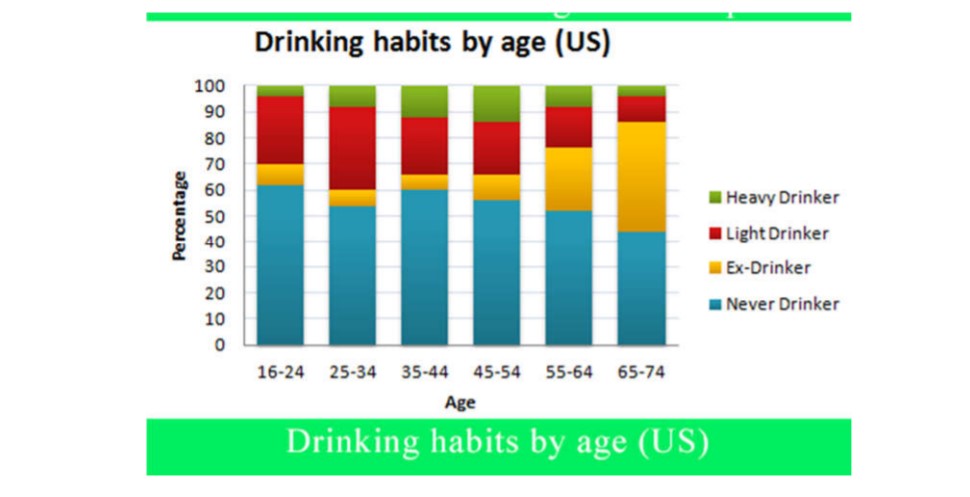 Sample Answer of Information About the Drinking Habits of the Us Population by Age
The bar chart reveals the percentage of drinking habits such as heavy drinker, lighter drinker, ex-drinker and never drinker in the United States of America by different 6 age group.
Overall, never drinking habits have the majority of proportional throughout all age groups. However, the heavy drinker has lower rates in all ages. Moreover, Older people are ex-drinker.
For never a drinker and heavy drinker, roughly 60% of adults have no drinking habits, which fluctuate slowly. Nevertheless, half a percentage of senior citizens are also not drinking. Additionally, 4% of 16-24-year-old people's heavy drinking grows slightly by age until 55 after it slumps and remains 3% in 65-74 age.
For ex-drinker and light drinkers, a quarter of people have light drinking habits for adolescents, which increase by 5% for 25-34 year people, and later it diminishes to 7% in older. In contrast, early age of life, Americans are ex-drinker, and in the last phase of life, 40% have ex-drinking habits.
Follow Us on Facebook 
Also, Read Percentage of Housing Owned and Rented in the Uk in 1991 and 2007