The diagram shows the parts of a dock for an mp3 player. Summarise the information by selecting and reporting the main features, making comparisons where relevant.
---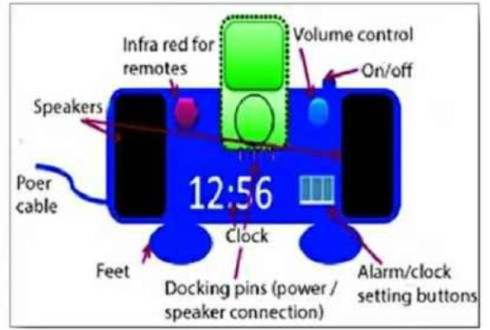 The diagram gives information about the different components of a dock consisting of an mp3 player. Overall, there are eight parts in a player, and each plays a unique role in the mp3 player.
To begin with, Volume control and on-off buttons are just at the top side of the player, which functions is to control the volume of music and to switch the on-off player. While on just the opposite side, there is a button for Infrared, which helps to identify the rays generating while playing the player. Speakers are placed at the corner of both the right and left sides of the player, and it is black in colour.
Furthermore, in the middle portion of the player, time is indicating the clock and just beside them, it has clock timing setting buttons which enables to sets the time of the Alarm. While at the bottom of the player, it has two handy feet, which helps us to hold the player in our hand properly.
At last, there is a plug to connect the speaker in order to listen loudly. It is located in the middle of the player it is green in colour, and also there is a power cable connection provided in order to connect with the electricity source.
Follow Us on IELTSFever Facebook 
Also read: The Diagram Below Shows the Typical Stages of Consumer Goods Manufacturing